As you may know, the City Council is in the middle of our budget process. We are required to adopt a budget by June 30.
This evening, I will host a final Budget Workshop at Lincoln Recreation Center (250 10th St.) starting at 6:30 pm. This is the community's opportunity to get your questions answered by Mayor Schaaf and City staff, and for us to listen to your funding priorities for the FY 2017-19 budget. Cantonese interpretation will be available. Here is a link to a voter survey that was completed by the Citizens Budget Advisory Committee back in January.
If you're unable to attend, but would like to provide your feedback, email BudgetSuggestions@oaklandnet.com or call (510) 238-2130, and press "#" to leave the City a message about your priorities. Or you can email my office directly at aguillen@oaklandnet.com.
I hope that you have a safe Memorial Day Weekend! -Abel
Community Celebrates Unveiling of New Lincoln Center Courts
The Warriors are hopefully on their way to another NBA championship, but last week District 2 definitely witnessed how the Warriors and the City of Oakland have already won – with the newly refurbished gym and three outdoor courts at Lincoln Square Park. Kevin Durant and Councilmember Guillén, who spearheaded the fundraising drive for the $150,000+ renovation, unveiled our new jewel in District 2 amid 200 kids from the neighborhood.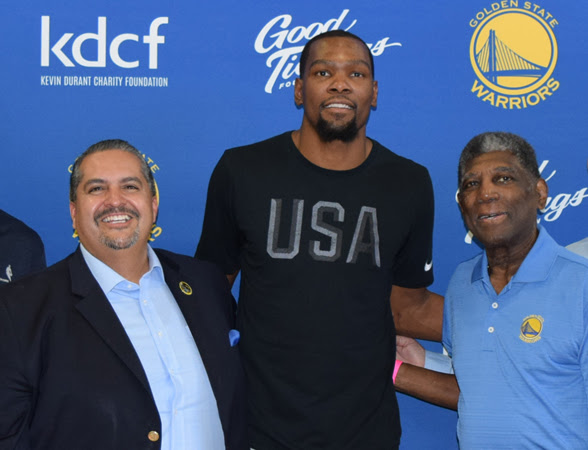 Located in the heart of Chinatown, Lincoln is one of the most heavily used recreation centers in Oakland, with more than 2,000 registered participants on a weekly basis and more than 30,000 drop-ins a month.
Thanks to all of our partners for making this happen: Golden State Warriors Foundation, Kevin Durant Charity Foundation, Local Initiatives Support Corporation, ESPN, Finish Line Youth Foundation, Good Tidings Foundation and JamTown Read more Mercury News

 
More Affordable Housing Opens in D2
New affordable housing is now open in District 2. Congratulations to all of our partners –, especially EBALDC and the Oakland Housing Authority – in helping build walkable, transit-oriented communities. Located three blocks from Lake Merritt, Prosperity Place (188 11th St.) provides 71 units for about 300 residents, and embodies our shared values. It's a tangible sign of our commitment to doing – and building – more for Oakland. The new homes, surrounding a playful courtyard (photo), are a short walk to good schools, great parks and a wide range of services and cultural resources. As these new families join our diverse district, they will also enrich the living experience of the residents and the vitality of the businesses in the neighborhood.


Get Ready for the District 2 Pothole Blitz | July 17-22
The City has filled more than 6,800 potholes citywide since January. With the severity of this year's winter storms following five years of record drought, there are still many more to fix. Regrettably, 23% of Oakland streets are listed in "poor" condition. The annual Pothole Blitz will be coming to District 2 on July 17-22. Make sure to report potholes in your neighborhood now on the SeeClickFix mobile app or email pwacallcenter@oaklandnet.com
Filling potholes is a short-term fix. Many Oakland roads need complete reconstruction or at least resurfacing. Thanks to the Measure KK infrastructure bond, passed overwhelming by voters last November, we now have $350 million for roadwork. Accelerating our current five-year paving plan, the City will repave 73 miles of roads (more than 1,100 blocks) by the end of 2019. You can download the full list of streets covered in the current plan.


The Lot on Broadway | Pop-up for Community Fun
As you know, the lot at 1100 Broadway (left photo) has been vacant for many years, and a new development project there (right photo) was recently approved. Before construction of the new building begins this fall, I've arranged for the space to be used temporarily for community events, thanks to the cooperation of Ellis Partners and event-management help from the Downtown Oakland Association. I hope we will soon be about to enjoy "The Lot on Broadway," as the pop-up community space will be called during its "public activation" phase this summer.
The site is now being prepared for this temporary use, and the space should be open to the public in mid-June. Holes have been filled in, and the soil has been graded; weeds and concrete piles have been removed. Contractors are now working on installing 20-foot rolling barn doors to provide a formal entrance on the Broadway side. A mural will incorporate signage on the fence.
The venue will include a seating area and performance space for live music, dance and theater, and a food truck pod curated by Off the Grid. The food trucks are slated to be on-site during lunchtime (11:00 am-2:00 pm) on Mondays, Wednesdays and Fridays, beginning on June 14. We will keep you posted about the opening and all the upcoming fun events.
After being fenced off for 30 years, I'm eager to see this barren property transformed into an exciting 'living room' for the downtown for the summer, and increase foot traffic for local merchants. The Lot on Broadway provides an opportunity for friends, families and the downtown crowd to meet and mingle as we work toward building community spirit, incubates our cultural arts scene, and stimulates our economy.
Update on Grand Lake Farmers' Market
We are waiting on City staff to make a recommendation about renewing the contract with the Agricultural Institute of Marin (AIM), the current operator of the Grand Lake Farmers' Market. I want to make sure whatever City staff recommends, that we continue to ensure the vibrancy of the market for residents and visitors alike.
Public opinions are mixed: Some residents aren't happy with the management of the market or the wear-and-tear on Splash Pad Park, while others support the current operation. My office is working with City staff to identify options to address the wear and tear. Parking is another issue that has come up. I've recently worked with AIM and OUSD to address this problem, and I brokered additional parking across the street at Lakeview School on Grand Ave. I believe these issues can be addressed and that we can help ensure the continued success of our neighborhood farmers' market. Share your thoughts using our constituent services form here
GET INVOLVED


Saturday, May 27 | Abel's Office Hours in East Lake
1:00-3:00 pm | Akat Café Kalli, 1603 2nd Ave. (between E. 16th St. and Foothill Blvd., near Lake Merritt)
Councilmember Guillén holds monthly "office hours" out in the community along with "Walk and Talks" throughout the year. We were in Bella Vista and Cleveland Heights the past couple of months, and will be in the East Lake neighborhood this month. Make it part of your Memorial Day weekend. Stop by before or after the Eastlake Music Festival at the Amphitheater! Say hello and share your thoughts about the neighborhood. "Walk-ins" are welcome, but you can reserve a time slot to avoid waiting: 510-238-7246
Support Café Sin Fronteras! Rocio, Jose and Akat Café Kalli are great assets to the Oakland community and our East Lake neighborhood. They've set up a kickstarter for their Sin Fronteras Coffee roaster and tallercito, a workshop space where young adults and people from the coffee lands now living here in the Bay Area can share experiences and learn about coffee, roasting and operating a café. It's a great local cause, and we urge you to support them. Please check out the site, spread the word (or perhaps host a benefit event for them), and consider a contribution – it's a good investment in making our neighborhood stronger.
Saturday, May 27 | Monthly Clean-up on 23rd Avenue
9:00-11:00 am | Meet at 2209 23rd Ave. (second house from the corner of E.22nd St.)
Please join the 23rd Ave. Beautification Group for its monthly work to clean sidewalks, street curbs and storm drains. The City of Oakland provides tools, gloves and safety vests. Snacks and water provided.
Tuesday June 6 | Coffee with a Cop
2:00-4:00 pm | Starbucks, 3347 Lakeshore Ave. 
Join your neighbors and connect over coffee with Oakland police officers. For more info
Public-Safety Town Hall
Councilmember Guillén convened a community town hall in the Grand Lake neighborhood last week with Police Chief Anne Kirkpatrick and Public Safety Director Venus Johnson. More than 50 District 2 residents and merchants attended. Among the topics discussed: Police enforcement of Lake Merritt regulations, OPD staffing levels and hiring standards, 911 response times, programs that address the root causes of crime, and how the public can help. Thanks to Pastor Hopkins and the Lakeshore Baptist Church for hosting.
As a follow-up, here are some useful resources that may be helpful: The Neighborhood Crime Prevention Council (NCPC) for Police Beats 14Y and 16X (Grand Lake, Lakeshore, Trestle Glen) meets each third Wednesday of the month (7:00 pm, Lakeshore Baptist Church). At these forums, neighbors decide what issues to tackle with OPD. Our NCPC Community Resource Officers attend these meetings regularly.
For more info: grandlakeneighbors.org or Neighborhood Service Coordinator Patricia Rose, prose@oaklandnet.com You can also email Sgt. William Febel, our Community Resource Commander (wfebel@oaklandnet.com), and Community Resource Officer Anthony Dondero (adondero@oaklandnet.com).
 

Lakeshore Merchants Meet to Talk Streetscape Improvements
Councilmember Guillén recently met with about 20 merchants, City staff and police officers to discuss street cleanliness and litter, uneven sidewalks, tree trimming, the possibility of creating parklets, aggressive panhandling and hosting a street festival. The group will meet again next month to continue developing their ideas and next steps. Thanks to Shakewell Bistro for hosting. For more info: rraya@oaklandnet.com


New Addition to Our District Team | Evan Larson
Councilmember Guillén's office is adding a new staff member for the summer – Evan Larson. He will be working on several housing and transportation issues of great interest to District 2 residents. Along with other projects, he will help our team produce a report on the role of accessory dwelling units in Oakland housing policy.
Larson recently completed his first year's work toward a dual degree in law and public policy at UC Berkeley. He previously worked in the Oakland nonprofit sector and for the City of San José before starting graduate school. A San José native, he earned his undergraduate degree in political philosophy at Princeton.
CELEBRATE OAKLAND
Saturday, May 27 | Eastlake Music Festival 
1:00-9:00 pm | Lake Merritt Amphitheater
The Eastlake Music Festival will feature local artists and live music. It's free and open to all ages. For more info


Bike to Work Day
Councilmember Guillén and his staff again marked Bike to Work Day (May 11) with a ride among friends and City co-workers. In other bike news: The Oakland Police Department has been conducting specialized bike-safety enforcement operations this month in an effort to reduce traffic injuries. Extra officers are patrolling areas frequented by bicyclists and where bicycle crashes occur. The officers will focus on both motorist and cyclist violations. California's Move Over Law requires motorists to share the road, keeping a space of at least three feet between their cars and any bicyclists they pass. 
CITY SERVICES
Cannabis Permit Application Process Opens
Earlier this week, the City of Oakland released its Medical Cannabis Permit Application for individuals interested in cultivating, manufacturing, delivering, distributing, testing or transporting medical cannabis in Oakland. This application process is the first step in implementing the groundbreaking equity permit program, passed by the Oakland City Council in March, to address past disparities in the cannabis industry by prioritizing the victims of the war on drugs and minimizing barriers of entry into the industry. Click here for the application, instructions and FAQ.
Summer Jobs for Oakland Youth Available | Apply by June 1
Through Thursday, June 1, applications are being accepted for part-time team leaders for the Team Oakland summer youth employment program. Young people between the ages of 15 and 24 will receive practical job-training experience through meaningful city cleanup and beautification projects. Team Oakland is administered by Oakland Public Works through an agreement with the Youth Employment Partnership, Inc. View job announcements For more info: Mike Perlmutter, mperlmutter@oaklandnet.com
Food-Truck Permit Workshops
Thursday, May 25, 4:30-6:30 pm | Fruitvale Senior Center, 3301 E. 12th St., Suite 201
Thursday, June 1, 5:30-6:30 pm | North Oakland Senior Center, 5714 MLK Jr. Way
The City of Oakland will hold two workshops to discuss the new mobile food-vending regulations. Applications for the new permits will be open from June 5 through July 7. For more info
Do you like this post?